OneUp Expenses is one of our most widely-used features. Whether you are uploading expense receipts from day-to-day cash transactions, inputting vendor invoices that you plan to pay in a few weeks, or syncing transactions from your bank, you can do them all with Expenses. Since it is such a central feature, we identified some ways to make it much better. And today, they are here! Let's see what's new: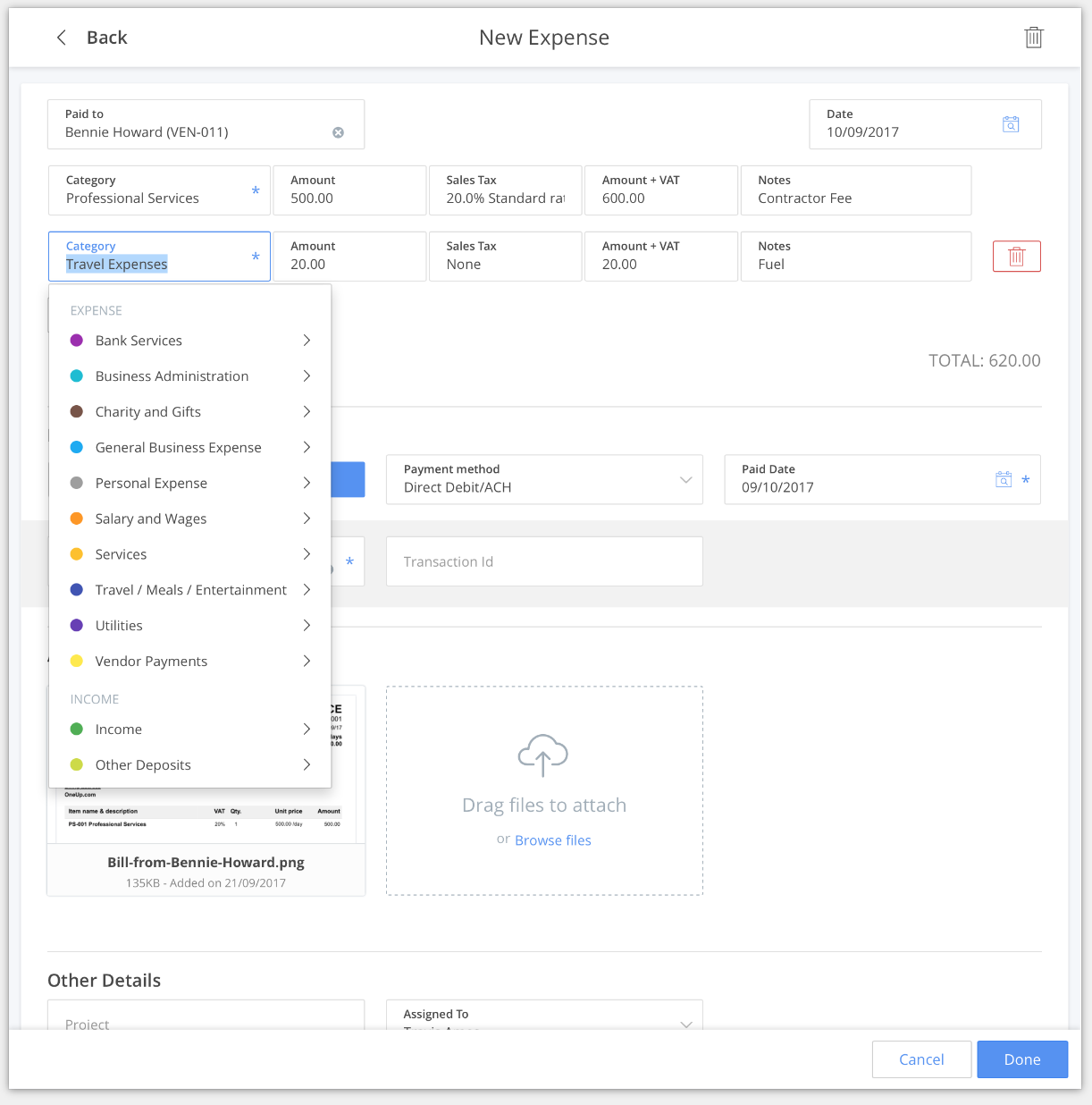 Artificial Intelligence 

to track cash receipts
One way a lot of people use OneUp Expenses is to record day-to-day cash transactions. We all know how this goes, you take a client to lunch or buy something for the company with cash, and you need to keep track of that receipt. To make this better, we have built in the latest technologies to reduce your data entry. Once you give OneUp an image of your receipt, it's OCR technology will fill in as much information as it can identify. Details like amount, currency date, payee, and multiple tax rates are added automatically!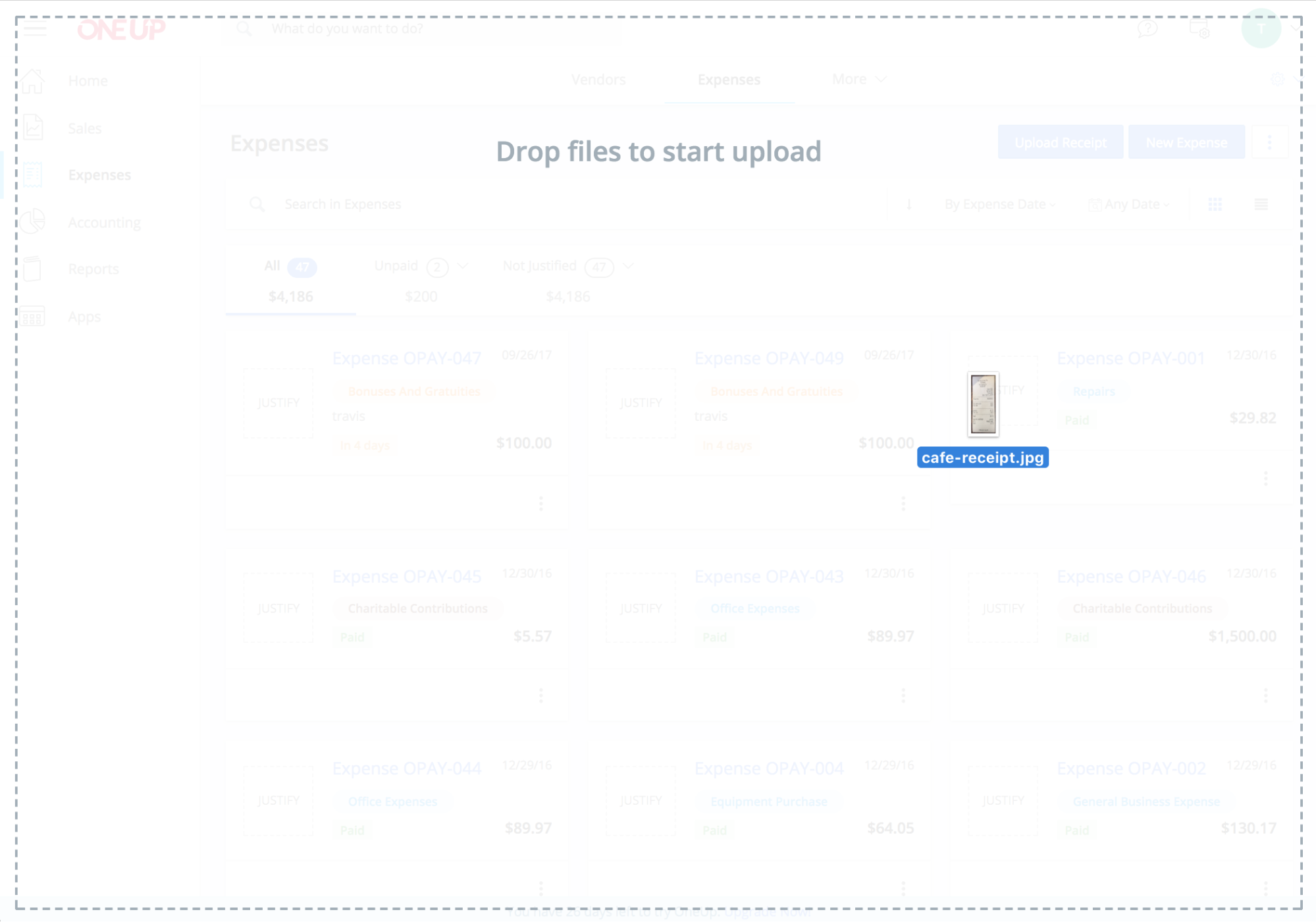 You can drag a receipt into the expense list to upload it
Just drag an image of a receipt onto the Expenses list in OneUp, and it will do the rest. Or open OneUp on your mobile device and snap a picture directly. Confirm the pre-filled information in yellow, add more details if necessary, and you're done. Tracking cash expenses has never been easier.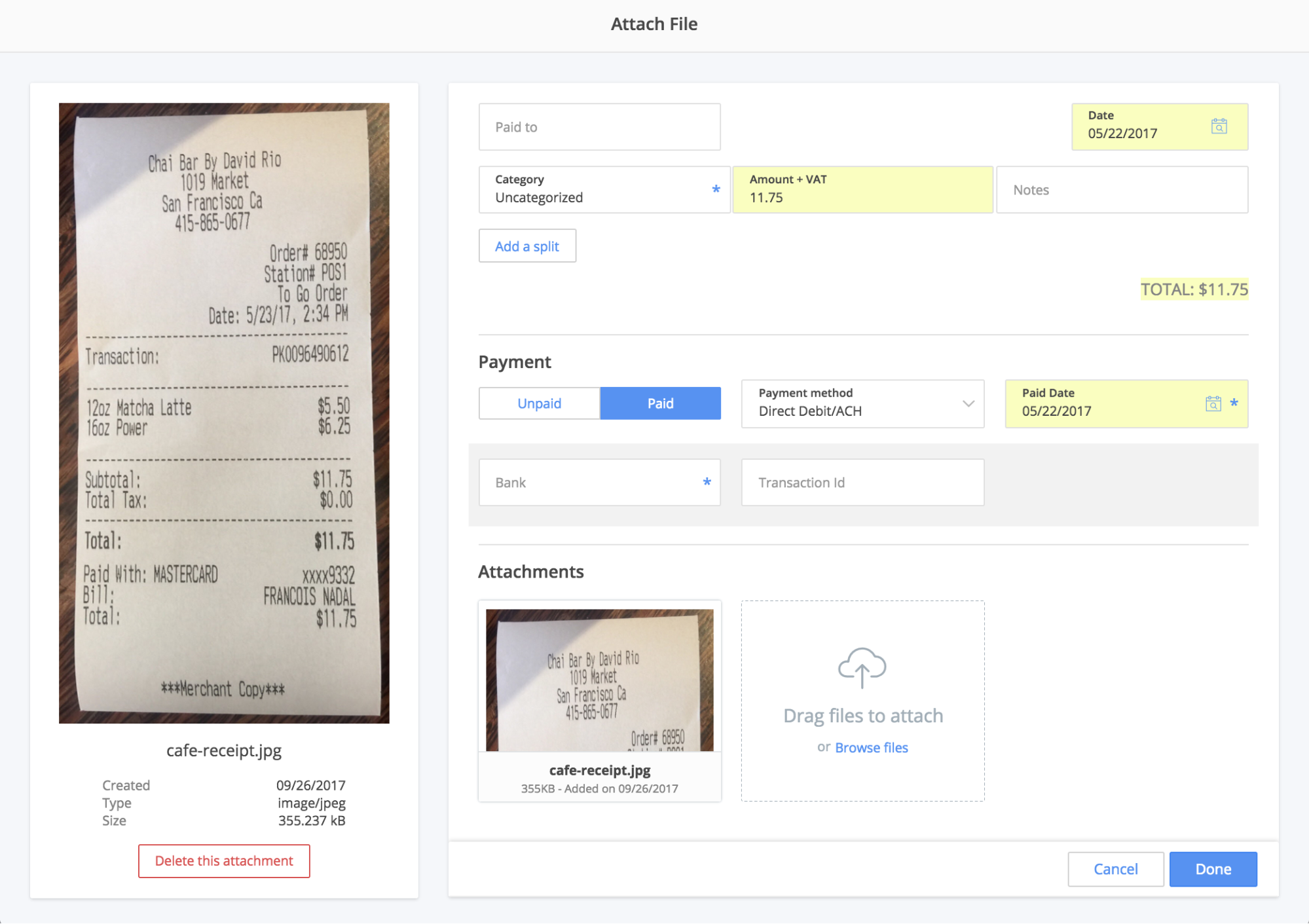 OneUp detected the information in yellow
Keep track of vendor invoices
What if you need to keep track of an invoice your vendor has sent? You can do that just as easily with Expenses. Just upload the PDF to OneUp, and make sure you check the due date. OneUp will be sure to keep track of when you need to pay that invoice.
Categories make accounting easy
Most companies using OneUp synchronize with their bank to retrieve their bank transactions. For many companies, over half of those bank entries are for expenses. Fortunately, thanks to our 90% automation rate, you are free from handling accounting for most of your transactions. But when a new kind of transaction comes up, you must decide how to account for that, by working directly with the Chart of Accounts.
We wanted to address that issue with the new Categories feature. Now Instead of working directly with Accounting's chart of accounts, we have built in over 100 useful categories to assist you in entering your expenses and getting ready for tax time.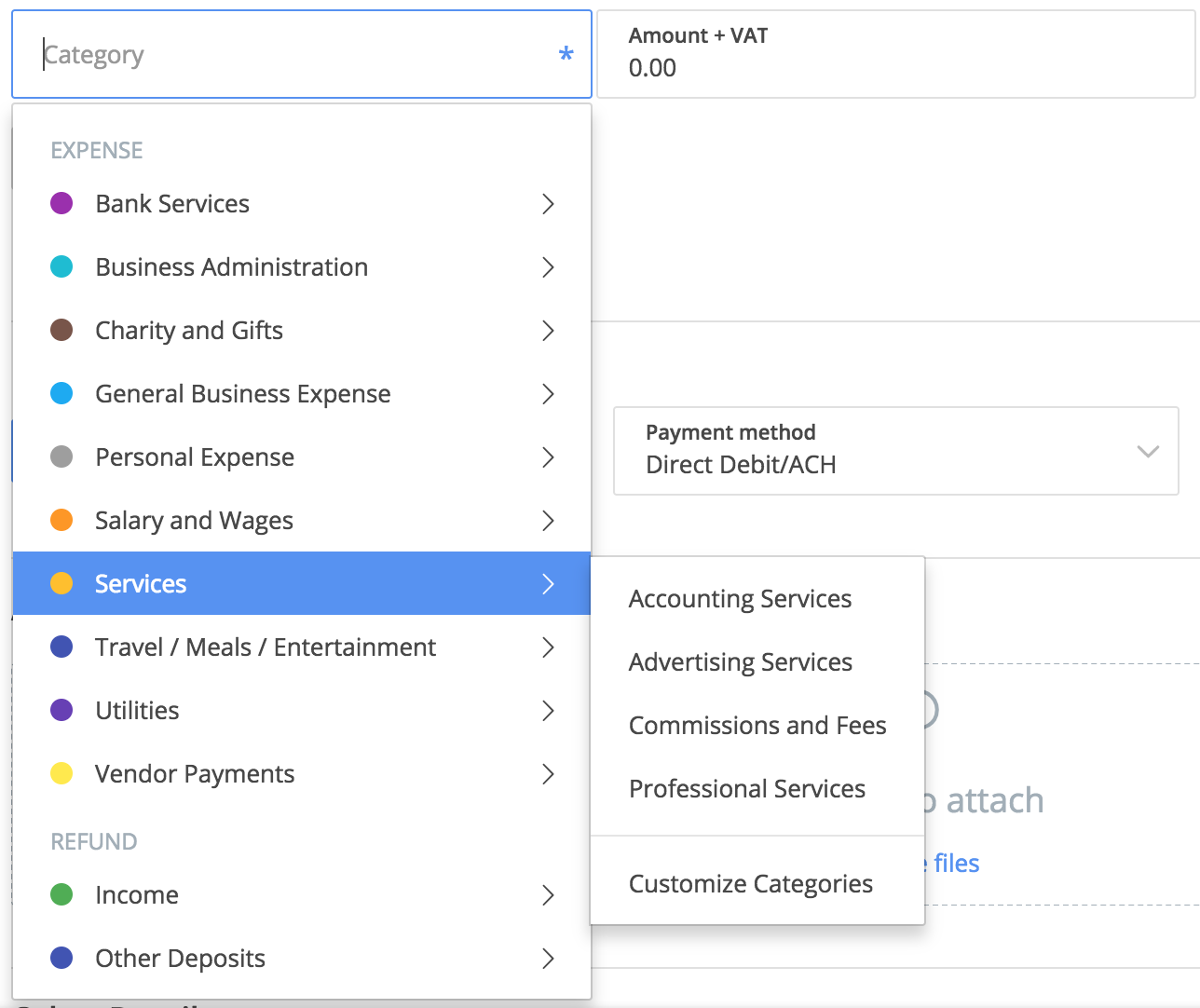 The Categories selector in Expense
What if the built-in categories are not enough? You can create custom categories and account for them any way you like! Have a lot of categories to add? You can even upload a list of categories from your prior solution and OneUp will add them to your account. More info about this is below.
A fresh new experience in the

 Expense screen
The expense screen itself got a major overhaul to make it faster and more convenient to use and easier to understand. See below for details about what is new.
Expense Type is now Category and replaces Expense Account
To bring Categories to Expense, we made two changes. We have combined the "Expense Type" selector and the "Expense Account" field. They are now replaced by the Category selector.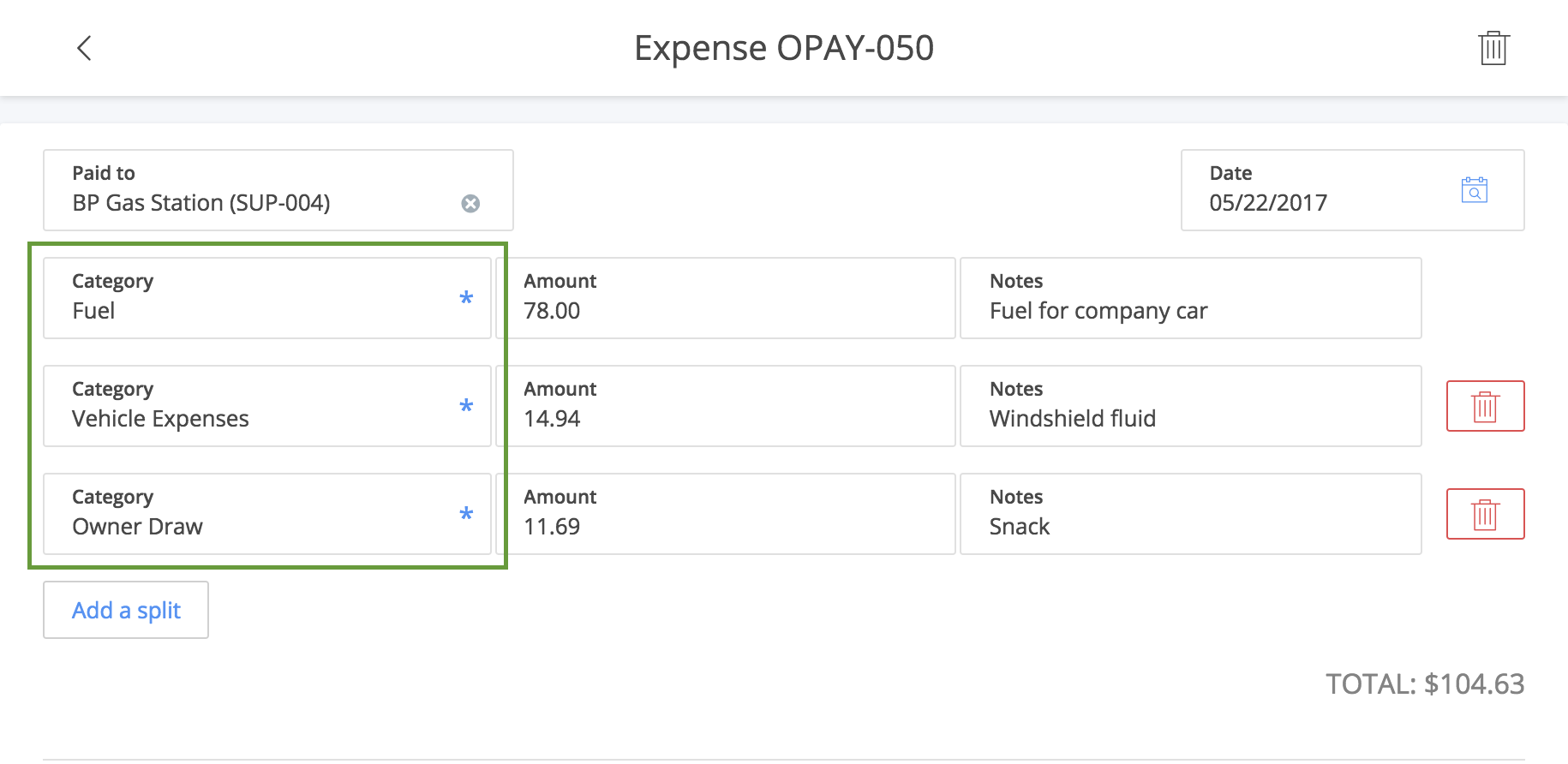 Use "Category" instead of "Expense Type" and "Accounting Account"
One of the more challenging aspects of entering expenses is deciding how to account for it. Enter new OneUp Categories!
Combined Payee Selector / Payee is Optional
We know it was a bit annoying each time to have to think about whether the person or company you paid was saved as a Customer, Vendor, or Employee. So we've come up with a smart new way to specify who the expense is paid to.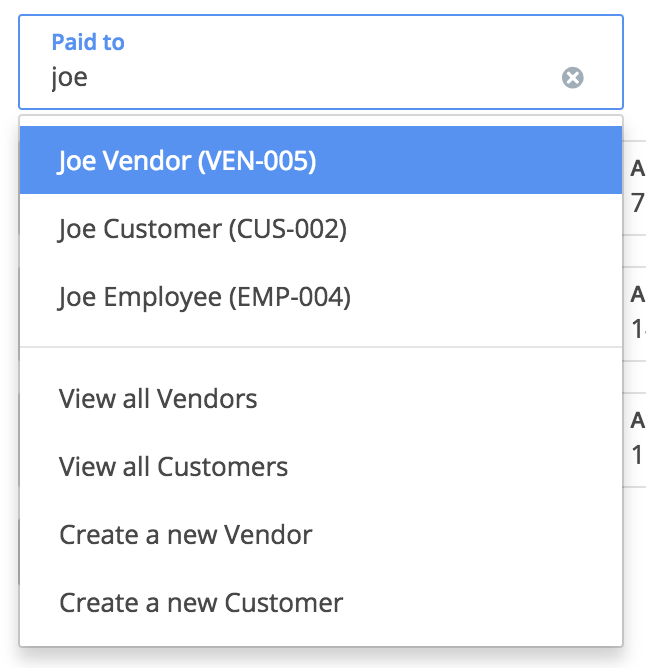 Typing a payee name now lets you pick a vendor, customer or employee
The combined Payee Selector allows you type in any of those payee types above and search across your entire account. You can even leave the Payee blank if you don't need to enter that information (Such as a paid expense to a one-off payee)
And, just like before, you can still create new Vendors and new Customer directly from the Payee selector.
Multi-Line switch has been removed
Switching between simple expense and multi-line expense was a difficult concept to grasp for people new to OneUp, and even for people that use it every day.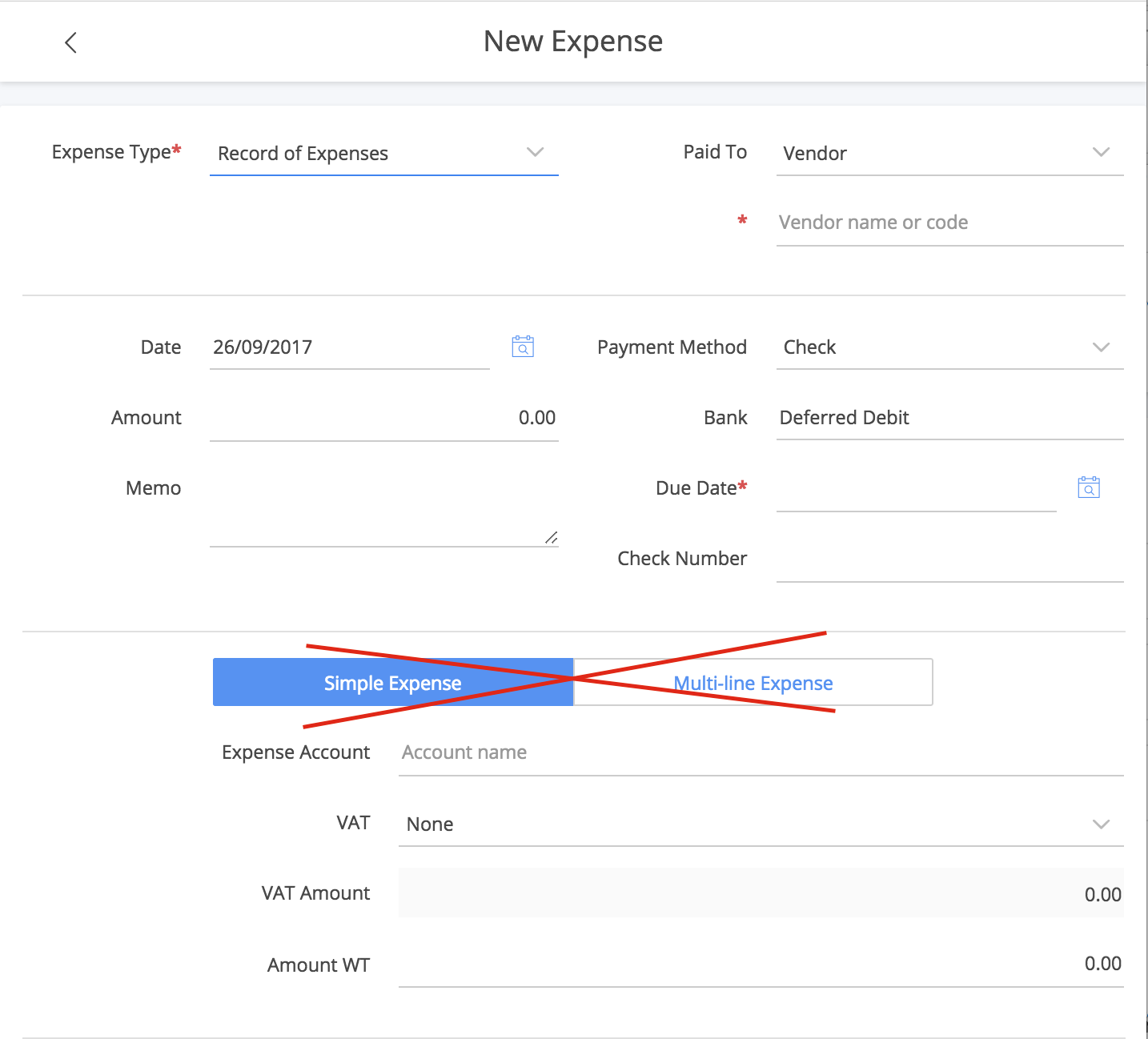 To create a multi-line expense, just add a split
So we decided to eliminate that confusing option. Any new expense comes with one line and you can add as many additional lines as you see fit.
Improved layout with regards to VAT Rates
(For 
people using OneUp
with VAT
)
If your company does not collect or pay VAT, this change is not significant to you. But we made some improvements to the way that VAT is laid out to make it easier to understand.


Comparing the prior order and the updated order
You can enter the amount BEFORE or AFTER VAT like before, but now it is in a more logical order so you can enter the "Amount" (Before VAT) first and see the "Amount + VAT" calculated once you choose the rate. Or you can type the "Amount + VAT" directly if you want. It just makes sense.
Memo and Note
Since there is no difference anymore between a Simple Expense and Multi-Line Expense, we have removed the overall "Memo" field and kept the "Notes" field on each line.
The "Notes" column in Expense form
But what about your prior simple expenses? We made sure to put those Memos into the Notes of the first expense line for you.
Customer and Project on Expense Lines
There used to be a field on expense lines for multi-line expenses for "Customer" and "Project". But we found that almost nobody was using these details, so we have removed this feature to streamline the design.

The "Customer" and "Project" on the line-level are removed
If you did put text in those fields, we have moved them into the "Notes" column of the first expense line for you. If you wish to continue recording customer and project on expense lines, we encourage you to use the "Notes" column from now on.
No more confusion about "Deferred Debit"
Did you know you that choosing the bank labeled "Deferred Debit" meant the Expense had not been paid yet?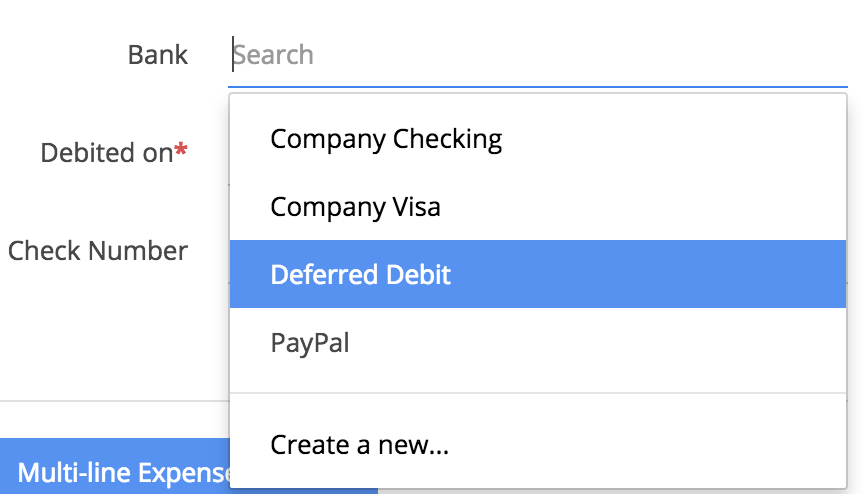 The "Deferred Debit" option on the prior expense form
In our interviews, we found that this was not clear to many people. So we have added a "Paid/Unpaid" switch (Just like in Invoice) that lets you clearly specify if the expense is already paid, or if payment will come later.

The new Unpaid/Paid switch and Bank selector
As a result of this, "Debited Date" is now labeled "Paid Date". OneUp also won't bother asking you for "Bank" or "Transaction ID" until it has been paid.
Small change to the Expenses List
Since expenses are centered on Category instead of Expense account, we now show the category instead in the expenses list. We've also done a bit of refinement to make things fit better on the screen when you use OneUp on a laptop or desktop computer.
CPA Mode for more advanced functionality
Everything you see above is the default "easy mode" of Expense which will work great for most people using OneUp. But certain people like accountants, CPAs and bookkeepers may still want to get their hands dirty and work more closely with the underlying accounting while working with expenses.
To handle this, we also include a CPA mode setting that adds some additional functionality, like:
Always see the account number (from Chart of Accounts) associated 

to

 Categories

See account numbers instead of category names on the expenses list.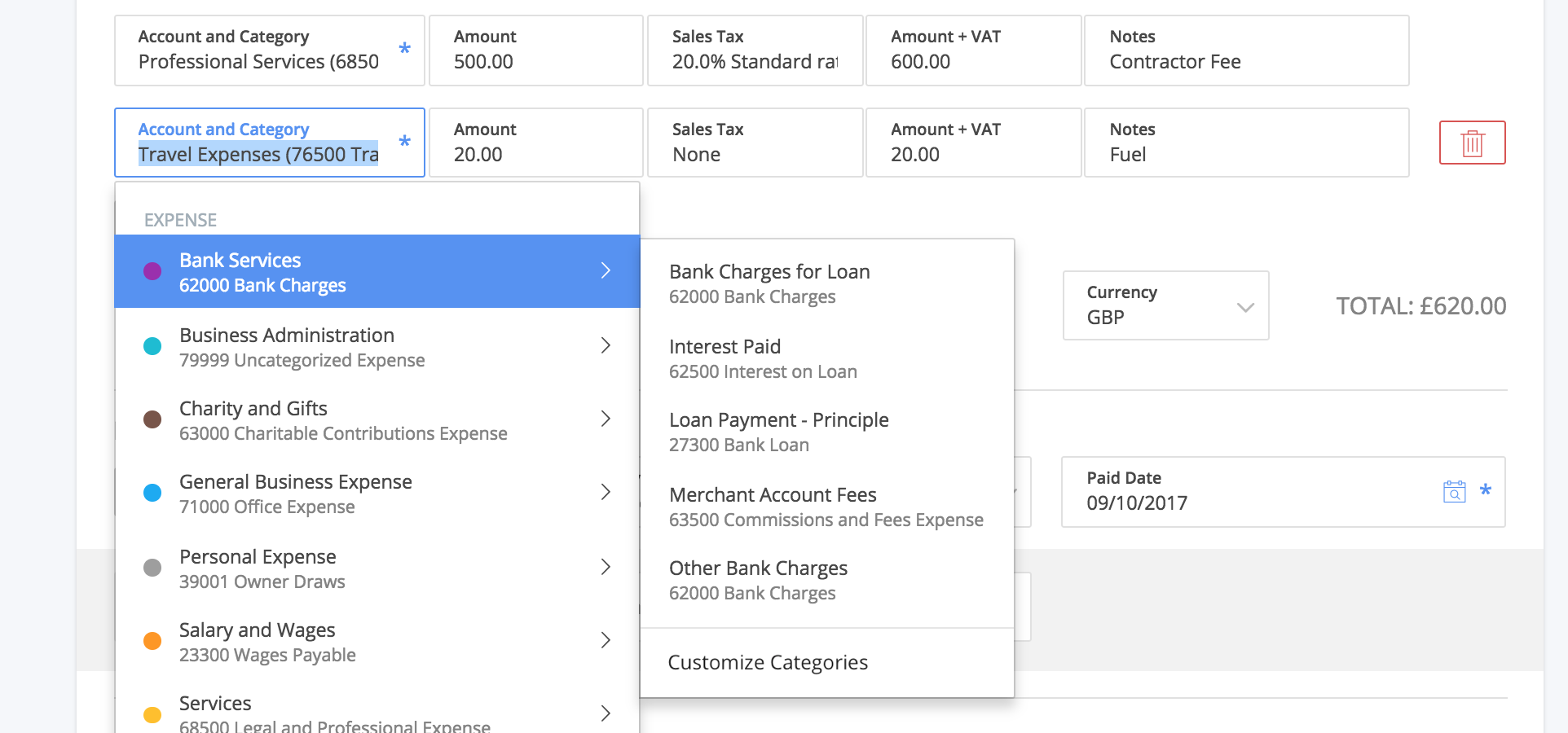 You can work with account numbers directly with "CPA Mode" enabled
With CPA mode enabled, you can also create new categories on the fly by entering directly the account from Chart of Accounts instead of category names on the expense lines.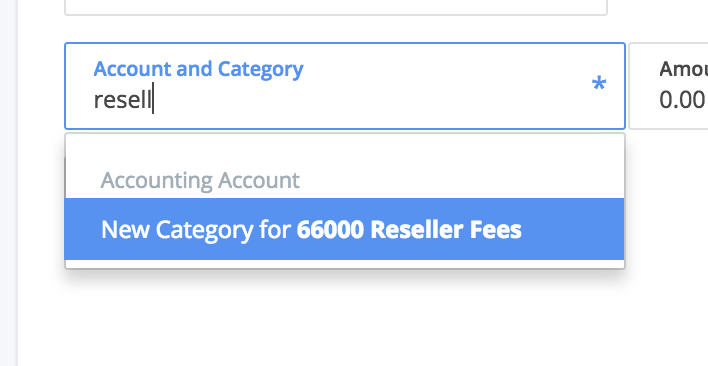 Image: on-the-fly category creation in CPA Mode
If your "User Role" was "Accountant" we have turned CPA mode on by default for you. If you need to turn it on even though your user role is not "Accountant", you can do so in your User Settings Panel, under User Interface.
Turning on CPA Mode in User Settings.
More about OneUp Categories
The new OneUp Categories are a vital component of these changes to the Expenses feature, so we wanted to include a couple of details specifically about the categories.
Customize Categories
Like we said above, OneUp comes with over 100 of the subcategories needed for most businesses. But if that's not enough for you, you can edit the categories.
There are two places you can do this, from the Expense form, and from the Accounting menu.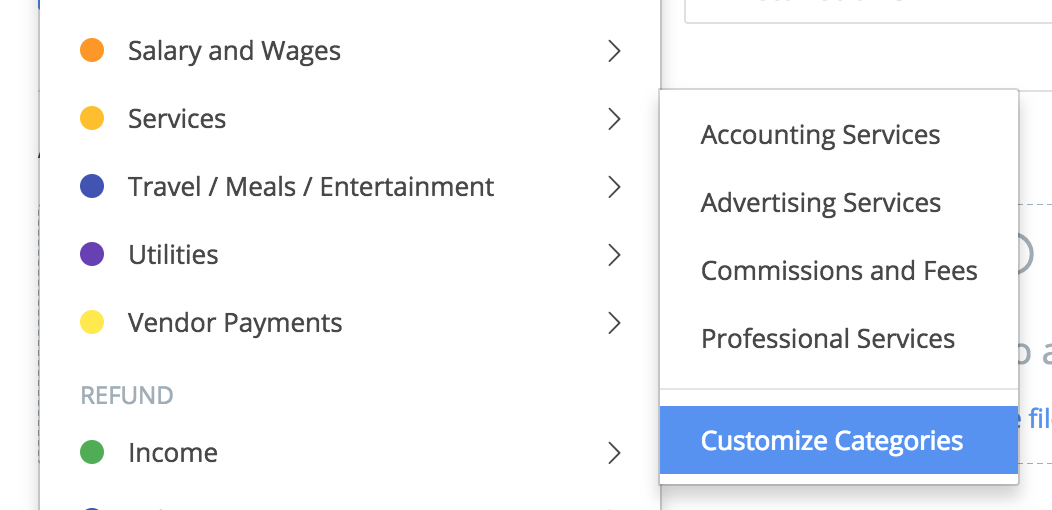 Accessing Customize Categories from within the Expense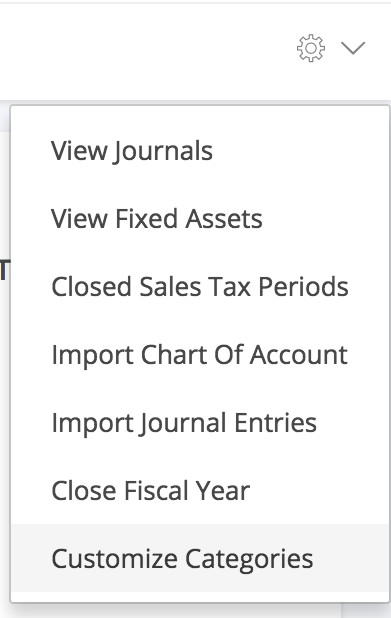 Accessing Customize Categories from within the Accounting ⚙  menu
Here's a look at the Categories editor.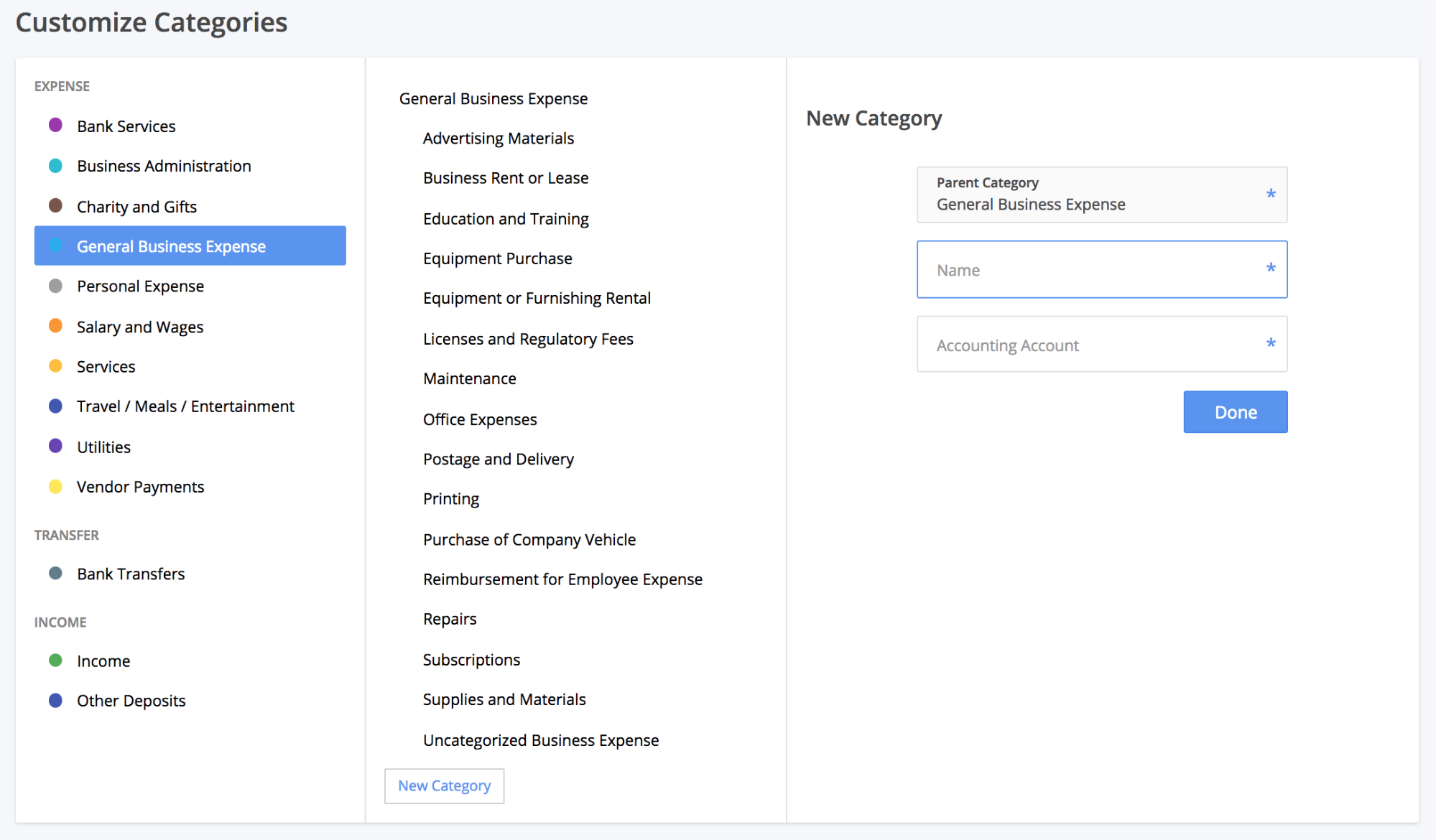 Adding a custom sub-category to the "General Business Expense" category.
From here, you can:
Rename existing expense categories and 

sub-categories

Change the accounting account associated 

with

 existing expense categories or 

sub-categories

Add new custom sub-categories under any of the categor

ies
Some things you cannot do:
Delete existing expense categories or 

sub-categories

Create new main categor

ies
Upload custom Categories
Do you have a lot of changes to make to the Categories? If so, you can download a template of the existing Categories as a spreadsheet, and edit as required.
Editing the default template in a spreadsheet software
When you re-upload the file, your changes will be applied going forward. We do not go back and alter the accounting for already-made expenses if you remap a category to a new account.

Upload the file from "Customize Categories" (accessible in Accounting > ⚙ )
Feedback and Opinions
We worked closely with many top OneUp customers of different kinds to bring these changes. But we also acknowledge that a change that might be good for one person or business might be less good for another.
Do you have some feedback or opinion about these changes? Please, do not hesitate to contact OneUp support at support@oneup.com, or contact your CPA representative and we'll be happy to hear your thoughts.