You can assign tasks, projects, opportunities, sales and purchase documents to employees in order to have a better overview about who is responsible or in charge for a business process.
When you create employees you can set a default service item, so if you bill time for tasks that were assigned to that employee, this service item will be registered accordingly. A New Employee is created in Settings

- Employees - New Employee.
When you pay salaries or reimbursements of travel costs using expenses, you can link them to the according employee.
Please note: Employees do not necessarily need to be users, but all users automatically create an employee.
Report example for assigned employees
If you need sales reports for your sales reps for example, assign them to your sales documents. You can then export quotes, sales orders and/or invoices to Excel and filter on assignee to generate according reports.
Example: To export invoices: Sales - Invoices - [︙] button - Export Invoices
On most search screens, an employee filter will enable you to see which documents were assigned to which users: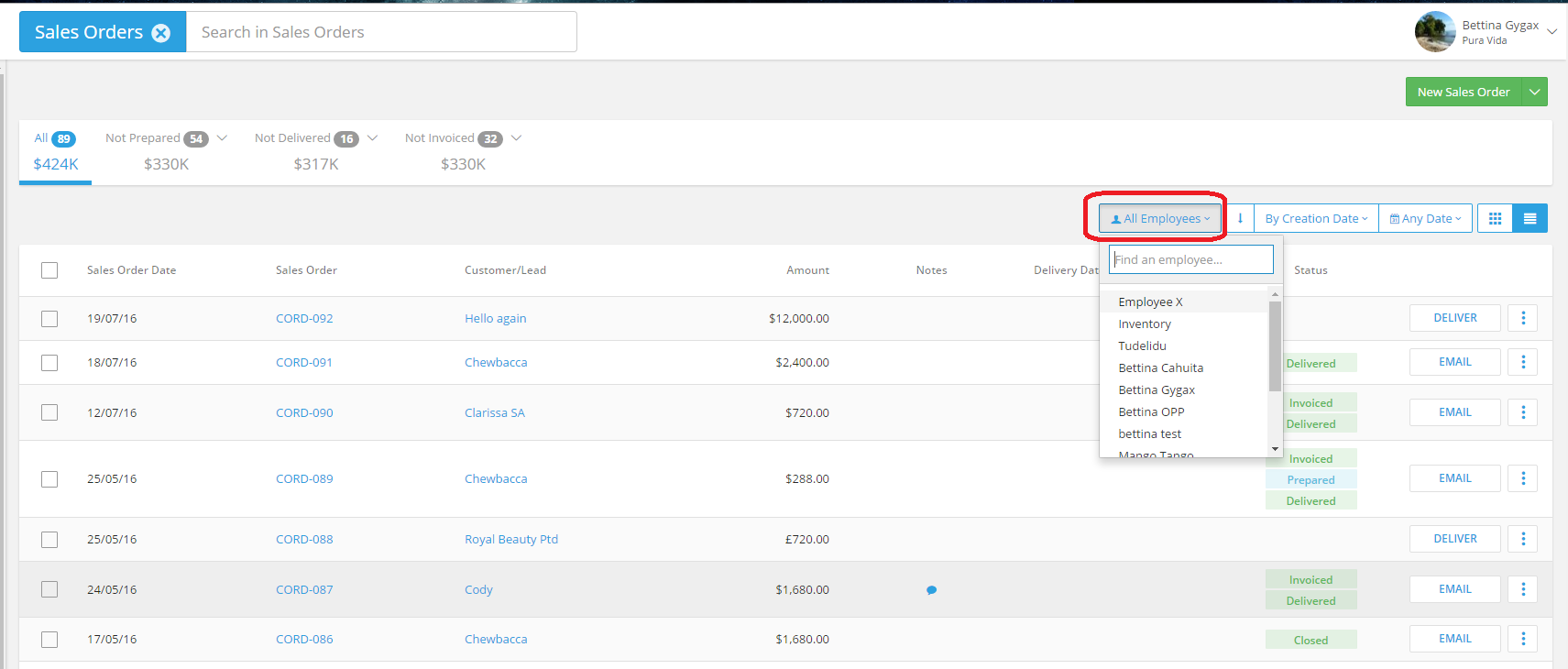 Please note:
If you do not have any other employees besides yourself (in Settings

- Employees), the "assign to" fields will not show, as everything is automatically assigned to the logged in user (to you in this case). Also, you won't find any employee filter in any screen.
I have employee duplicates, what should I do?
We recommend renaming the duplicate employee to identify the one you need to eliminate.
Please note that you cannot delete an employee that is also a OneUp user. When you try to delete the user linked employee, OneUp will tell you with a message, that this employee is linked to a user and so, is not deletable.
After you renamed the duplicate, please go to the home menu and type the name of this renamed employee into the search bar to see, what documents and activities might be linked. You will then need to open each activity and document and re-assign it to the employee that needs to stay.
If there are no more documents and activities linked to the renamed employee, you will be able to delete them in Settings

- Employees.